---
About
---
Drug Discovery & Nutraceuticals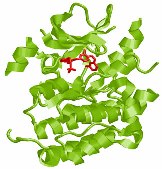 Eidogen-Sertanty is dedicated to improving health, medicine, and general well-being. For over 14-years, Eidogen-Sertanty has helped in the discovery of new, safer medicines through innovative software technology, knowledgebases, and collaborative projects. Eidogen-Sertanty's software and solutions bridge the knowledge gap between biology and chemistry, and service engagements help to accelerate the drug discovery process. Eidogen-Sertanty's nutraceutical products embody years of research and are directed towards proactive health & wellness.
Since 2003, we have worked with every top pharmaceutical and biopharmaceutical company in the world across the alphabet of chronic and acute disease. Through our product and service offerings, Eidogen-Sertanty proudly has helped companies make advances in numerous disease areas including cancer, AIDS, arthritis, general infection, and pain.
Our major discovery informatics platforms TIP™, ChIP™, and Kinase Knowledgebase™ allow our pharmaceutical clients and partners to leverage public and proprietary chemical and structural knowledge to substantially improve the overall efficiency of the drug discovery cycle from hit to lead, increasing the odds and lowering the costs of successfully developing novel, safe, and effective medicines.
Our DirectDesign™ Discovery Service combines all of our proprietary technologies for the directed de novo design of lead compounds and target-focused virtual libraries. Our biotechnology and pharmaceutical clients utilize DirectDesign to fully exploit the complete spectrum of Eidogen-Sertanty's knowledge-driven discovery informatics capabilities on a project-by-project basis.